Postmark - Raspberry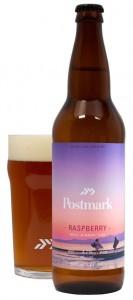 Looking for a light, easy drinking beer on a hot day?  This might be the right beer for you. 
Postmark's bottle says it all.  
- Raspberry - Wild / Summer / Tart -
This Raspberry Ale has a fruitful red berry aroma to start it off.   The taste matches the smell almost identically.  It tastes like something you would come to expect out of a Belgium fruit beer, a fruit juice made with malt.  Low on the bitter side, somewhere around 15 IBU's you could drink this on a sunny day by itself or mix it with a cider. 
Postmark is located in the Settlement building in east Vancouver.  This is a great stop if you are looking for a place to sit, eat, drink some BC wine and of course try a few Vancouver craft beers.
---
1 Response
Leave a comment