BC Craft Beer Festivals to Attend in 2018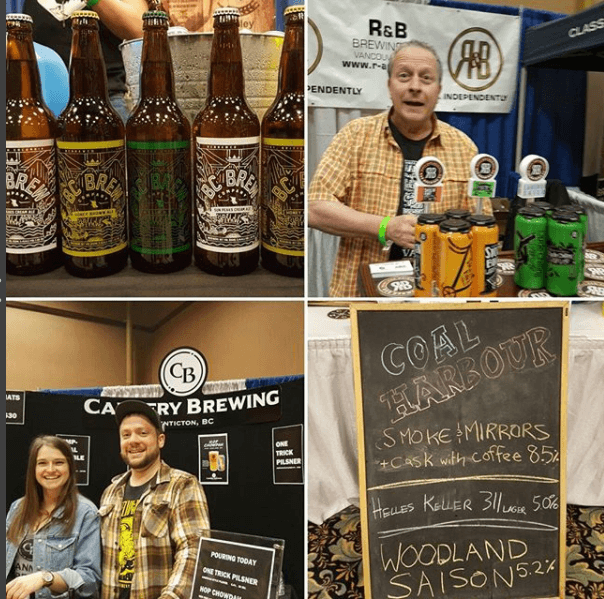 BC Craft Beer Festivals to Attend in 2018
Okanagan Fest-of-Ale
April 13 & 14
Penticton BC
Fest-of-Ale is well known in the beer community as a must-attend event. Located in the beautiful Okanagan valley, it's definitely worth the trip from wherever you are coming from; only 3-4 hours from Vancouver!
Fest-of-Ale is the oldest running beer event in the Okanagan (starting in 1996). They are non-profit and have always contributed to craft beer and local communities. With 65 craft breweries in attendance and over 5000 visitors there is plenty to see and to try. Not only is there lots of delicious craft beer but there is cider, plenty of food, live entertainment and their own set of yearly awards to give out for the best brews of the weekend.
If you find yourself with extra time, be sure to check out Penticton's awesome brewery scene including Highway 97, Cannery Brewing, Bad Tattoo, and Tin Whistle Brewing, and take a quick drive to Summerland to visit Detonate Brewing! Keep your weekend in mid-April open because Fest-of-Ale is one of the best beer events going.
Vancouver Craft Beer Week
May 25- June 3
Vancouver BC
2018 marks the 9th year of Vancouver Craft Beer Week and will be hosted again at the PNE Fairgrounds. It is the biggest craft beer event in the province with over 100 craft breweries and cideries in attendance and over 300 craft beers to try to fit in. Good thing you have a week to do it!
There will be live music, DJS, an amazing array of food trucks, and a super special games area.
VCBW is a great way to kick off the summer and experience the province's best beers. The location at the PNE is also just a hop, a skip, and a jump away from well known 'Yeast Van' where you can wander over to multiple local breweries to get your growler filled after tasting your new favourite beer at the festival.
Great Canadian Beer Fest
September 7 & 8
Victoria BC
Starting in 1993, the Great Canadian Beer Fest is the provinces longest running craft beer event. September may seem like a long time from now but tickets sell fast for this fun island event. There are over 60 breweries and cideries in attendance at GCBF.
Part of the adventure is that it is an outdoor event and will go on rain or shine, (often rain) so pack a raincoat and be ready to try some amazing craft beers in a fun festival environment. There are parties, cask nights, beer tours and events going on all throughout the city leading up to the Great Canadian Beer Fest, so you might want to take some vacation time and enjoy all the amazing breweries the island has to offer instead of just making it a weekend trip!
Squamish Beer Festival
July 7
Squamish BC
Squamish Beer Festival is the perfect festival if you like to drink beer in one of the most beautiful settings in the world. Nestled in an outdoor park, you have an incredible view of the Stawamus Chief and the beautiful surrounding nature and mountains. There are lots of beers, lots of beauty, and lots of happy faces at Squamish Beer Fest. There are over 50 breweries and 2000+ guests in attendance, in addition to food trucks, DJs, live music and best of all, axe throwing.
There is plenty to see and do at this event but the same time, it somehow maintains a totally chill and relaxing atmosphere. Get your tickets early and book with Canadian Craft Tours to get a shuttle ride there and back safely. Squamish Beer Fest is a fun and unique beer event that is definitely worth attending.
Galiano Wine & Beer Tasting Festival
August 11
Galiano Island BC
If you are looking for a charming day trip event from Vancouver, or a further journey to add some variety to your beer events, the Galiano Wine and Beer Tasting Festival is the perfect little adventure to go on.
The venue is a lovely 20-minute walk from the Sturdies Bay Ferry Terminal and the walk takes you through cute restaurants and shops in Sturdies Bay village. If you go early, you can time it to also visit their neighbouring craft market. It is friendly, small, quaint, and really makes for a fun afternoon. With the ticket price, an engraved beer tasting glass and crystal wine glass are included as lovely souvenirs and you won't find many lineups so it won't be hard to fill them up with delicious local craft beer. There is lots of yummy finger foods to sample, a silent auction, and entertainment throughout the duration of the festival, and best of all, the money raised goes towards the Galiano Health Clinic. Nothing is better than drinking for a cause. It's just a quick ferry ride and a lovely stroll away!
Read about more beer festivals in BC, a complete list!
---
1 Response
Leave a comment