Hidden Gem Wineries in The Okanagan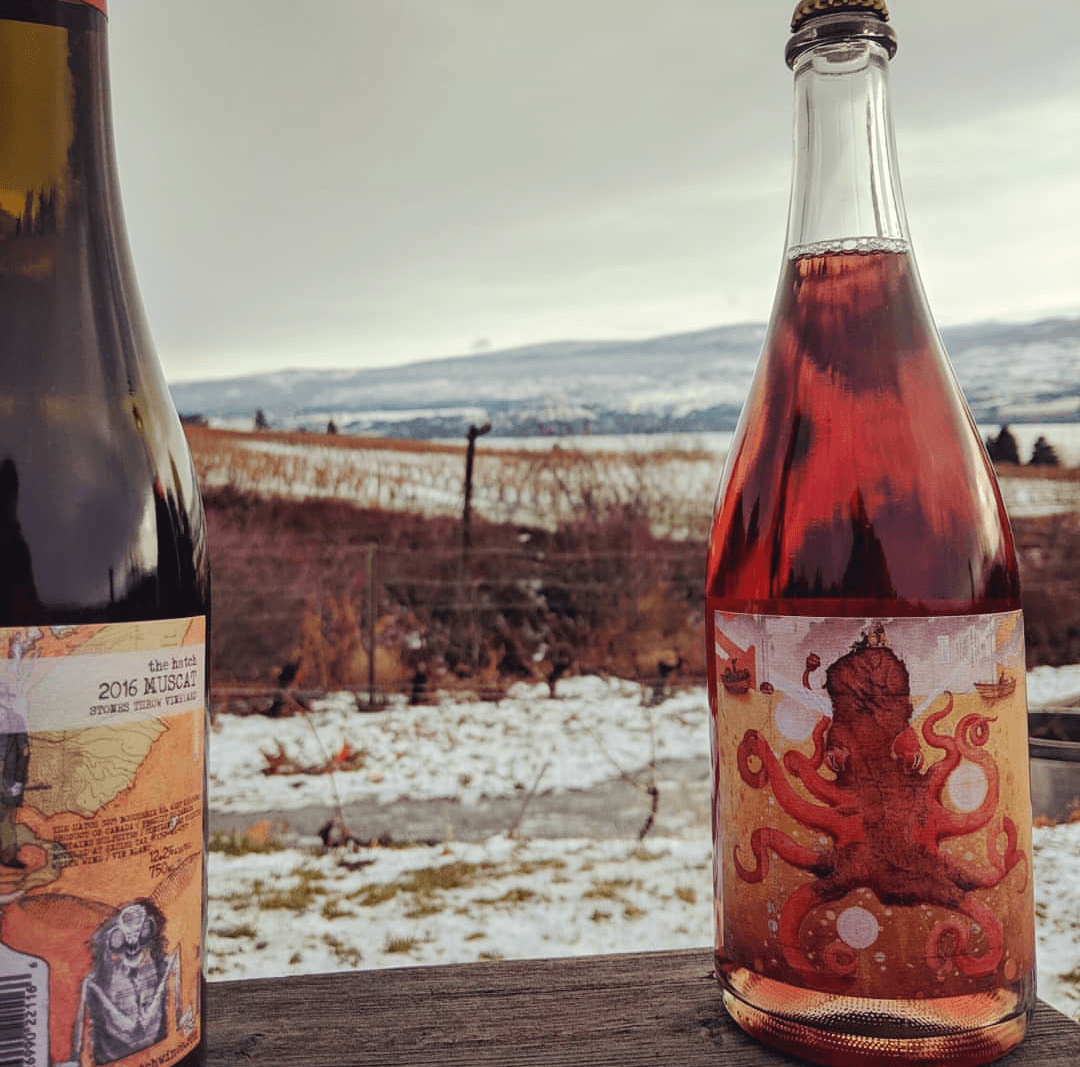 Off the Grid
West Kelowna
When exploring the Okanagan Valley wineries try to ensure you plan a visit to Off the Grid Organic Winery. As their name suggests, they are a certified organic winery and operate the tasting room fully off the grid with the use of solar panels and designed the building to be as energy efficient as possible. In addition to the solar panels on the roof you might notice some of their other friends up there, because Off the Grid is also a certified SPCA rescue facility so they have a number of goats with access to graze on the roof of the tasting room, along with quite a crew of animals including sheep, chickens and even a turkey. You are able to sip delicious organic wines, take in the beautiful scenery, and pet adorable little goats, and if that's not the perfect way to spend an afternoon, I don't know what is. This family run winery is charming, fun and best of all they serve great wine. Off the Grid is definitely a highlight of the Okanagan.
Book a West Kelowna Wine Tour here:
Dirty Laundry
Summerland
Dirty Laundry is a bit more well known winery in the Okanagan than others in this list, but it is  tucked back cozily in the hills of Summerland, which makes it a bit of a literal hidden gem. If you are looking for a non-typical wine tasting experience, then Dirty Laundry is a winery worth finding. Historically, in the late 1800's during the building of the Canadian Pacific Railway, the property was run as a Chinese laundry business however, in secret they also ran a brothel upstairs. (Everyone had really clean clothes) Dirty Laundry has gotten their name and inspiration for their wines and tasting room from their sordid and notorious past. The tasting room staff are often adorned in boas and suspenders and are serving up wines with racy names like Woo Woo Secret Affair. They offer free tastings at Dirty Laundry, so sample their wine and  pick your favourite to purchase. They also have an array of cheeses, meats, crackers and snacks to purchase so fill up a picnic basket full of goodies and enjoy a nice relaxing lunch on their outdoor patio. There are beautiful views of their vineyard and you might even get a chance to see the historic Kettle Valley Train go by. You'll definitely leave Dirty Laundry with a smile, just like the men used to in the 1800's.
Book a Summerland Wine Tour here:
https://www.canadiancrafttours.ca/products/summerland-wine-tour
Tantalus Vineyards
Kelowna
Exceptional vines make exceptional wines! Tantalus is a single vineyard winery, meaning that all the grapes are grown on the same property. Tantalus Vineyards (originally known as Pioneer Vineyards) have grape vines originally planted as early as 1927 and is known as the oldest producing vineyard in British Columbia. Ensure you take a tour when you visit Tantalus so you can see the aged vines up close in person and learn the rich history of wine making in the Okanagan and at Tantalus. Their extensive history doesn't stop them from being edgy and experimental though, yearly making a wild fermented Riesling. (The Riesling Lab) which is always unique and delicious. It offers beautiful views and a wonderful collection of artwork in the tasting room and although its old, it is definitely still fresh as ever and a hidden gem in the Okanagan.
Book a Kelowna Wine Tour here:
https://www.canadiancrafttours.ca/products/kelowna-wine-tour
The Hatch
West Kelowna
Weirdos meet winemaking at the hatch wines. If you have ever had the notion that wineries can be a bit stuffy, pretentious, boring or bland, then hop in your car right now and head to the hatch. (Don't forget your seatbelt!) Located on Mount Boucherie in West Kelowna, the hatch is humbly nestled between some of the Okanagan's busiest most renowned wineries, such as Quails Gate and Mission Hill. However, it is a total contrast and stands out as incredibly unique and charming. The tasting room is a cute little shack adorned with antique nick nacks (such as hatchets and bbq flippers which are apparently both perfect for sabering open their delicious Octobubbles Brut) and it's not just the decor that stands out. Their line ups include some rare styles such as a (super delicious) orange wine, and a collaboration done with Pamela Anderson. The staff are charismatic, their descriptions are hilarious and the staff is some of the best in the wine business. There are picnic tables and grassy areas outside with lovely views to enjoy your wine at, a beautiful view and vines for you to go check in on their grapes. If you are looking for one of the best winery experiences in the Okanagan, if not the universe, definitely make your way to the hatch wines.
Book a West Kelowna Wine Tour here:
https://www.canadiancrafttours.ca/products/west-kelowna-wine-tour
Ex Nihilo Vineyards
Lake Country
Ex Nihilo is a beauty hidden gem winery in the heart of Lake Country. It is the perfect stop to have lunch at the Chaos Bistro, sip some lovely wine and feel your worries melt away. They offer wine and cheese pairings and have a fantastic menu (with delicious pizzas) at their outdoor patio restaurant. Pick a pizza and ask their talented staff for their best-suggested wine pairings. Ensure you don't get too relaxed though because you should absolutely head into the tasting room and check out their splendid art collection that is supplied by talented local artists. The meaning of Ex Nihilo is 'creation from nothing' and they do a great job of putting that statement into practice.
Book a Lake Country Wine Tour here:
https://www.canadiancrafttours.ca/products/north-kelowna-wine-tour
---
2 Responses
Leave a comment