Victoria Bachelorette Party Ideas - Victoria to Cowichan Wine Tour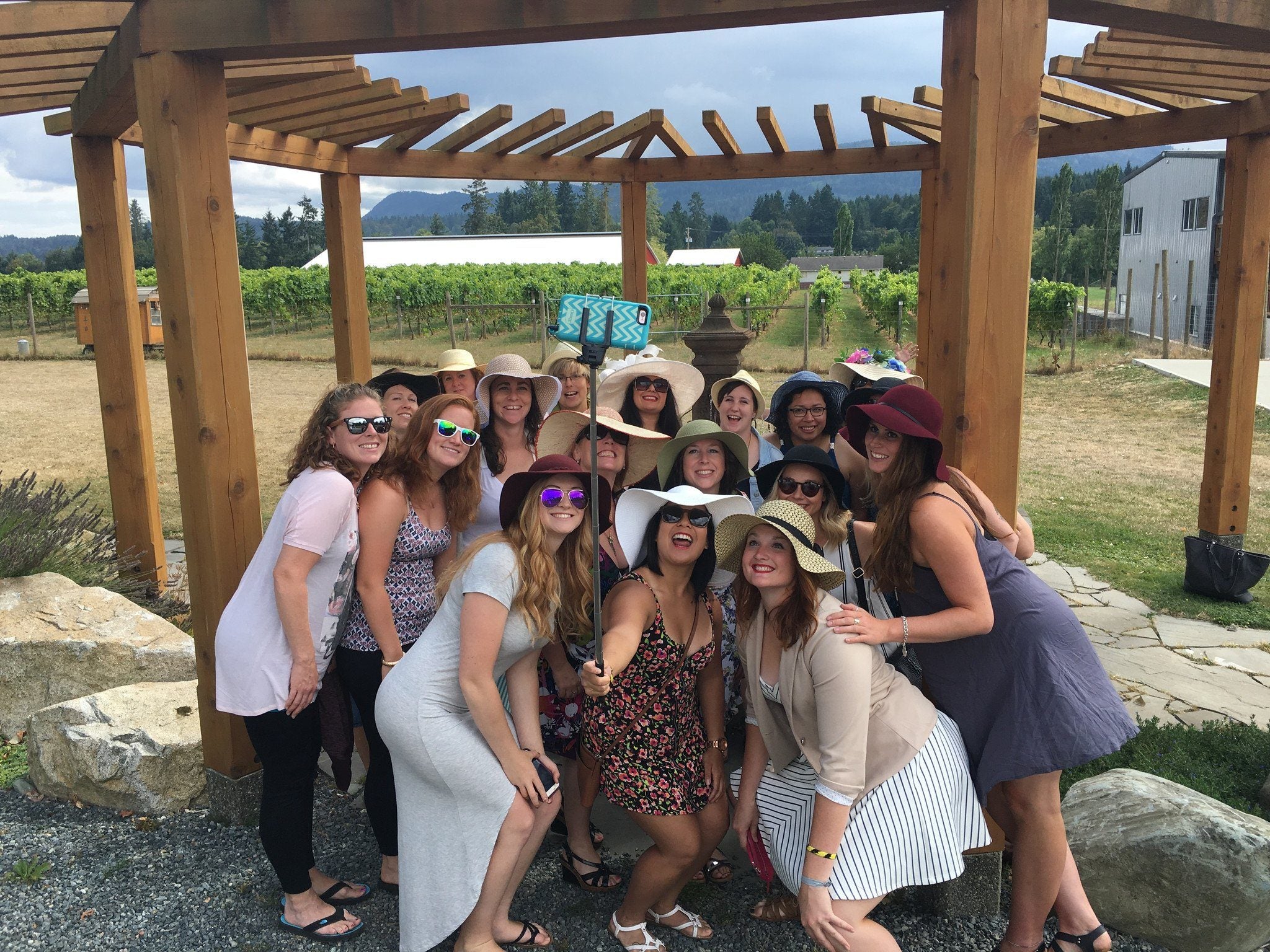 VICTORIA BACHELORETTE PARTY IDEAS – Victoria to Cowichan Wine Tour
Planning a Bachelorette in Victoria can be stressful.  How do you know the best places to take your group?  What if mother nature does not cooperate?  
Victoria Bachelorette party Tip #1: Plan for a no-show or non-payment rate of 10-20%.  Everyone wants to send their friend off in style but life little surprises can change things.
Victoria bachelorette prty Tip#2:  Expect to send 3 emails about the topic before engaging over 50% of the group.
Victoria Bachelorette Party | Cowichan Valley Wine Tour
The team from Canadian Craft Tours Picked five of my girlfriends and me in downtown Vancouver and we left for the tour at 10 a.m. The day was sunny, allowing us to take in fully the beauty of Cowichan Valley which includes rolling hills, beautiful water bodies and unspoiled fields and Vineyards.
Our guide began by giving us a summary of the wineries we would visit, including a brief history of each winery, wines on offer and any additional facilities we would enjoy. We visited three wineries on this tour, including Enrico, Blue Grouse and Unsworth wineries.
Enrico Winery Tour
At Enrico winery, we enjoyed several glasses of Cabernet Libret, Pinot Gris and Ortega. Our guide brought us a complimentary glass that we savored while enjoying the beautiful surroundings.
Blue Grouse Winery
The Blue Grouse Estate Winery had its own special offerings including the Ortega, Black Muscat, and Riesling. We had remembered to bring our own picnic that we enjoyed on the patio, in addition to a cheese and cold cuts platter supplied by the winery. All wines were top of the range and enchanting, and we agreed that this was definitely a winery we would visit again.  The picnic was in addition to the lunch at Enrico.
The tour to the Unsworth winery provided us with a much-needed lunch in the 119-year-old renovated farmhouse, where we enjoyed the chef's creations in addition to the extremely delicious Charme De L'lle. The whole trip took about six hours and included wine tastings, vineyard tours, and meals at the various wineries.
The Van from Canadian Craft Tours finally dropped us off in downtown Victoria and we trudged off home happily with our wine purchases and an even happier bride to be who could not thank us enough.
---
4 Responses
Leave a comment