5 Tips to Make Your Next Bachelorette Party Go Smoothly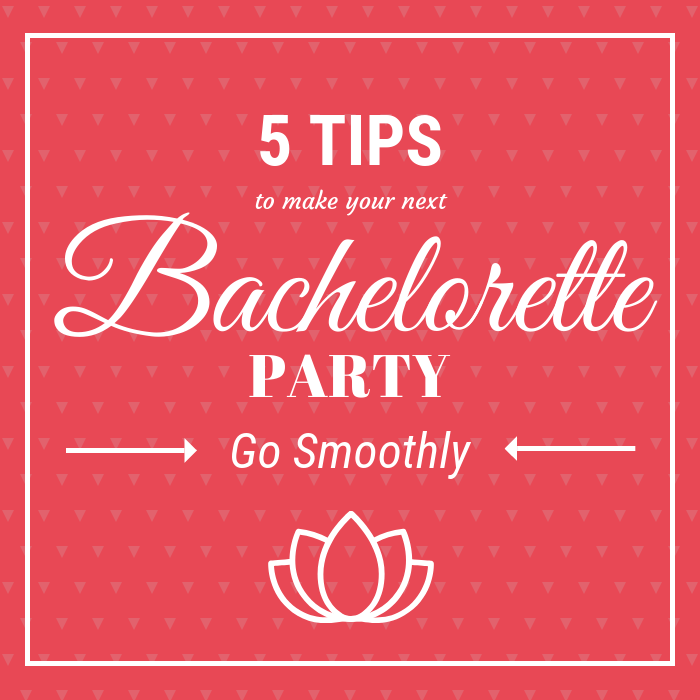 As the 2020 wedding season quickly approaches, many will be thinking about the age-old tradition of the Bachelorette party. Images of matching t-shirts, Bride-to-Be sashes, plastic shot glass necklaces, and adult games may come to mind. Those things might be ideal for some but what you do for the party is up to you; a wine tour, a spa day, a weekend away, camping, or a night on the town are just some of the endless possibilities available. What you choose will be unique as the group you're planning for. Regardless of the activities you have in mind, these five tips will help your festivities go more smoothly.
Pick a Captain and maybe an Assistant Captain
 Too many cooks in the kitchen will spoil the broth as they say. This role is usually assigned to the maid of honour by default, but doesn't necessarily have to be. The Captain should be someone who is confident in her ability to make a plan and see it through. She may have some related professional or volunteer experience in event planning, or in the activity of your choosing. Of course the captain doesn't have to go it alone, she can recruit an Assistant Captain to help shoulder the load. Whoever the Assistant Captain is, you are looking for the same qualities we want in our captain and most importantly the two must work well together.
Know who is attending
This doesn't just mean have a list of names, you have to know everyone at least a little bit. If you're not well acquainted then you will have to put in a bit of work. You want to make sure everyone feels included and can enjoy what you have planned. An effective way to do this would be to email everyone a questionnaire, make sure to include questions about the following:
Dietary Restrictions: This category seems to get more complicated every day. There are life-threatening food allergies to consider first. After that, is anyone pescatarian, vegetarian, vegan, gluten-free, keto, on a juice cleanse, or other specialized diets? You may not be able to provide exactly what everyone wants but make a reasonable effort to offer an assortment that has something for everyone. Most restaurants have their menu available online so you can check beforehand. If there is someone that you cannot accommodate just make sure ahead of time that they know to bring something for themselves.
Budget: Money may be an awkward topic but if everyone is expected to pay their share then you need to know what they can afford. Remember that those you are planning for are invited because they are who the bride to want to celebrate with, not because of their financial situation. Discretely consider who has the tightest budget and go from there.
Time: Everyone invited will have to take time out of their schedules to attend and some are busier than others. Planning a trip that is too long may exclude those that can't get away from commitments for that period of time. For most, a couple of days works well and people are more likely to be available on the weekend.
Comfort and Ability Level: You are trying to create a fun and inclusive environment for everyone and the chosen venues and activities should reflect that. If there is a physical component to any part of the party, make sure everyone is able to participate. Risqué activities might make some people more uncomfortable than others.
Financial Commitment Upfront
This is important for all involved. Planning far in advance is preferable because it gives everyone a chance to save the date and source funds. Some places may require deposits or to pay in advance when booking. Set a deadline for everyone to give their money to the Captain before she books anything, especially if it is under her name or on her credit card. Make it clear that if someone drops out their money may be non-refundable, otherwise, the rest of the group could be left to cover the difference.
Games and Activities
When most Bachelorette Party excursions start in the morning the energy is high as everyone is doing introductions and catching up. Later in the day, after all, gossip has been shared and people have run out of things to talk about the energy level may die down a bit. The group may become socially tired and start to segregate in cliques of those they are most familiar with. A great way to unify the group is with a game or activity. It can bring the energy level back up and get the group interacting as a whole again. You can't predict exactly when this lull may occur so make sure you have a game or activity that is easily carried and can be deployed almost anywhere at a moment's notice.
Plan a Leisurely Pace
You may be tempted to pack as much as possible into a weekend trip so that it can be the experience of a lifetime. It's normal to feel inclined to do this for many reasons. Though you should take advantage of lots of opportunities, make sure to keep the pace relaxed and build time in between activities. Some things may take longer than expected so you should account for that. If it is a multi-day event give people some time to go off and do their own thing. You always have to plan for those outfit changes between day and evening. Everyone will look back on the experience more positively if they feel relaxed not rushed.
            If you've read to this point it is likely that you are planning a bachelorette party, birthday party, girls' weekend, or similar event. I hope this blog has given you some ideas or brought forth aspects you may not have considered. If all of the things mentioned seem obvious to you then you should have no problem planning an event that will be remembered for a long time. If you will be in British Columbia or Alberta for your party and want us to help, CLICK HERE
---
59 Responses
Leave a comment