Top 10 Niagara on the Lake Wineries to Visit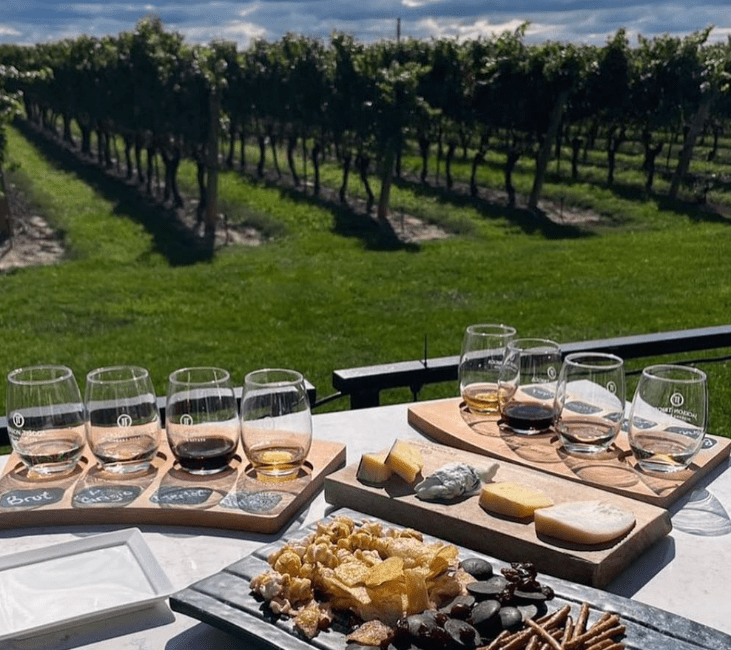 Ladies and gentlemen, allow me to introduce myself, I am the wine expert you have been searching for. I have traveled the world, swirled, sniffed and sipped my way through vineyards far and wide, and I have finally stumbled upon a little gem of a region, Niagara-on-the-Lake.
Now, I know some of you may be thinking, "Oh, great another boring wine expert, yawn." But let me tell you, the wineries of Niagara-on-the-Lake are far from boring. They are a unique blend of historic buildings, strong winemaking legacy, and family-owned farmlands. And let's not forget, the Vintners Quality Alliance (VQA) has designated this region as distinct, with sub-appellations such as Niagara River, Niagara Lakeshore, Four Mile Creek, and St. David's Bench.
So, without further ado, I present to you the crème de la crème, the top 10 Niagara wineries that will make your taste buds do the cha-cha. From the bold and robust reds to the crisp and refreshing whites, these wineries have it all. Trust me, I've tasted them all, and I can assure you, you won't be disappointed.
But a word of caution, the only way to truly experience these wineries is by car, tour or by bike as public transport options are limited. If you want help planning your next Niagara Wine Tour, then reach out to us and we would be happy to set up the perfect day for you! 
So, grab your corkscrew, and let's get this wine tasting party started. Cheers!
Inniskillin is a renowned winery located in Niagara-on-the-Lake, Ontario, Canada. The winery is known for its production of icewine, a type of dessert wine made from grapes frozen on the vine. Inniskillin's icewine has won numerous awards and accolades, and is considered to be some of the best in the world. The winery also offers a variety of other wines, including reds, whites, and sparkling wines. Visitors to the winery can take a tour of the facilities, taste the wines, and learn about the winemaking process. The winery also offers unique wine and food pairings, where guests can sample a selection of wines paired with culinary delights. Inniskillin is a must-visit destination for wine lovers, and is known for its commitment to quality and innovation in winemaking.
Peller Estates is a Canadian winery located in the Niagara region of Ontario. Founded in the 1960s by Andrew Peller, it has grown to become one of the largest and most well-known wineries in Canada. Peller Estates produces a wide variety of wines, including red, white, and sparkling wines, using grapes grown in the Niagara region. The winery is known for its use of traditional winemaking techniques, as well as its commitment to sustainability and environmental stewardship. In addition to producing wine, Peller Estates also offers tours and tastings, allowing visitors to learn about the winemaking process and sample the wines.
Trius Winery is a Niagara-on-the-Lake based winery. It has been producing wines since 1988, and has garnered awards for its reds, whites and dessert wines. Trius Winery first made waves in the international world of wine when it won the Best Red Wine in the world award in 1991. This win marked an important step in Canadian Wine making history as it sent out a message that Canadian wine could now stand up to Old World wine. Trius Winery offers visitors the opportunity to taste their award-winning vintages as well as enjoy a wonderful meal prepared with locally sourced ingredients. With views of the vineyards from the restaurant, Trius provides a unique experience for wine enthusiasts and newbies alike! If you are planning a bachelor or bachelorette party make sure Trius is on your list of Niagara on the Lake Wineries to visit! 
Stratus Vineyards is located on 62 acres. It is located far enough from Lake Ontario that Stratus Winery is able to grow warmer climate varietals such as Cabernet Sauvignon while the lakes moderating effect keeps the majority of the falls early frost away from the vines! Stratus Vineyards was built with sustainability in mind, they use geothermal heating and cooling and have a completely pump free production which instead uses gravity to move wine from one vessel to the next. Stratus Vineyards focuses on producing wines that reflect the terroir of the region and its minimalist approach to winemaking. The winery focuses on producing high-quality, small-batch wines using minimal intervention in the vineyard and the winery, allowing the grapes to express their unique characteristics. They are also dog friendly on their outside patio! 
Chateau du Charmes Winery is a family-owned winery located in Niagara-on-the-Lake, Ontario. Established in 1978, they have been producing high quality vintages for over 40 years using only grapes that they grow on the property. The winery offers their 1.8 million visitors per year the opportunity to experience a true taste of old world charm in their gorgeous winery and to sample their award winning wines. Their commitment to sustainable agriculture has earned them recognition from the LCBO and the VQA. Whether you're looking for a more casual tasting experience or looking to pop the big question while popping bottles, Chateau du Charmes Winery has an experience for you! 
Cave Spring Vineyards is a family-owned winery located in the heart of Niagara Escarpment, Ontario, Canada. The winery was founded in 1986 and has since become a leader in the Canadian wine industry, known for producing premium quality wines made from locally grown grapes. The winery's vineyards are situated on the limestone-rich soils of the Niagara Escarpment, which provides the ideal terroir for growing Riesling, Chardonnay, Pinot Noir, and Cabernet Franc grapes. Cave Spring Vineyards is dedicated to sustainable and environmentally friendly practices, and they have received numerous awards for their wines at international competitions. If you're ever in the area, be sure to visit the winery's tasting room and try some of their delicious wines.
Jackson-Triggs located in the heart of Niagara on the Lake is a must see Niagara Winery. The winery's portfolio includes a range of wines, from dry and crisp whites to full-bodied reds, that cater to a wide range of wine preferences. Another reason for the winery's popularity is its reputation for being an excellent tourist destination. The winery allows visitors to take a tour of the vineyards and winery and taste the wines in the on-site tasting room, or enjoy a glass of wine while taking in the beautiful views of the vineyards and the Niagara Escarpment. They also host a summer concert series set in their outdoor amphitheatre. 
Colaneri is a family run winery located in Niagara on the Lake situated on St. David's Bench. The winery has been rebuilt in a Romanesque style which makes you feel like you have transported to Europe. In the summer you can enjoy a flight of wine and a stone baked pizza on their beautiful piazza while taking in the view of their vineyard. They specialize in making wines in the "Appassimento" style which means that they slightly dehydrate their grapes once picked which enhances the flavour and adds body to their wine. If you are looking to add an epic winery to your trip then make sure Colaneri is on your list! 
 Flat Rock Cellars is located on the 20 Mile Bench with growing conditions similar to Burgundy, France. It is known for its unique terroir, which is characterized by a combination of glacial till soil, a moderating lake breeze, and a long growing season. The winery is also known for its innovative winemaking techniques, including the use of natural fermentation and aging in underground caves. Flat Rock Cellars prides itself for its sustainable and environmentally-friendly practices, such as the use of solar power and rainwater harvesting to reduce their environmental footprint. 
Malivoire Winery is a Canadian winery located in the Niagara region of Ontario. It was founded in 1984 and is known for producing high-quality, terroir-driven wines using sustainable and organic farming practices. Malivoire won Winery of the Year for 2021 at the National Wine Awards of Canada.
The winery's vineyards are located on the Beamsville Bench, which is a sub-appellation of the Niagara region known for its unique terroir and ideal growing conditions for cool-climate grape varieties. Malivoire Winery is particularly known for its Chardonnay and Gamay Noir wines. The winery has a commitment to environmental stewardship and is a founding member of "Vineyards in Concert", an environmental sustainability program that is focused on the protection of natural resources and the reduction of environmental impact. They are also in the process of becoming certified organic. 
Now that you have read up on the top 10 wineries located in the Niagara on the Lake and Niagara Region its time that you explored them yourselves! Reach out to us to book a tour so that we can worry about the planning and the driving and you can focus on the sip sip hooraying. 
---
Leave a comment