5 Breweries to see in 2018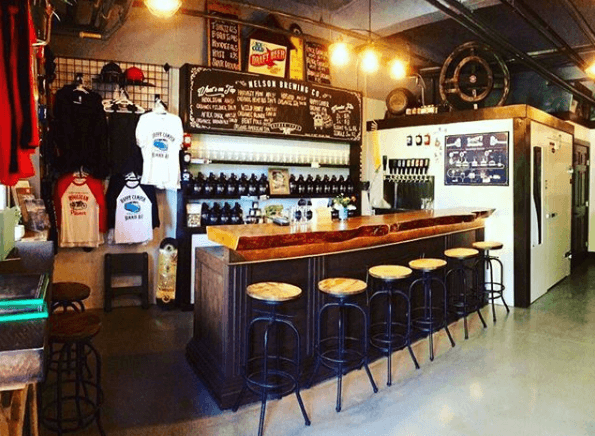 Visit these Five Breweries in 2018
Author: Michelle Gowing
Revelstoke, BC
Located in the beautiful mountain town of Revelstoke, right along the Trans Canada Highway, Mt. Begbie Brewing Co. is definitely worth making a special trip for.  Even if you're just passing through town, make sure you leave yourself some time to stop and check out their awesome brewery which has been in operation since 1996. They've recently relocated the brewery and opened a brand new tasting room. You might not have heard too much about them previously, but 2017 proved to be quite the year for the owners Bart and Tracey Larson and their team, winning Brewery of the Year at the Canadian Brewing Awards, (out of 333 competing breweries) taking home 2 gold medal awards for their High Country Kolsch (which was runner-up for beer of the year) and Begbie Cream Ale and winning a bronze for their Brave Liver Scotch Ale. Then to add some icing to their cake they took another huge award home to Revelstoke, winning World's Best Kolsch at the World Beer Awards. They've consistently put out great beer but on the heels of an unforgettable year for them, 2018 is definitely the time to go check them out and see what else is up their sleeves.
East Abbotsford BC
So much to see, so much to do. Fieldhouse is a great place to visit for any craft beer adventurer. Located in the Fraser Valley, it is very much worth the trip out of the city for a visit, or to stop in on your way into town. A huge focus for Fieldhouse is collaborations and in 2017 they teamed up with well-known artist Tom Froese and a ton of awesome breweries, including Modern Times, Four Winds, Doans, Boombox and Twin Sails Brewing to make collab beers. It's a great place to try their unique beer styles (including a Dutch pale ale and sour wheat gose) and have a little taste of what other breweries have to offer as well. To celebrate their second anniversary (Happy Anniversary!) they are releasing their first Foeder beer which was fermented in their new white oak Foeder tanks. It is a beautiful venue, with an outdoor beer lawn in the summer and heated covered patio in the winter within a beautiful location. The location, the beer, and the food guarantee a great journey and experience.
East Vancouver BC
Strathcona is a cool brewery in a cool location serving cool beers. If you are doing a trek through East Van, Strathcona Beer Company is a must stop. Started by a group of friends, Strathcona's focus is premium, fresh, quality beer. Located in Vancouver's oldest neighbourhood they have set up a world class brewing facility where they release unique beers like a Winter Radler, a Wild Cherry Ale, and a Dark Mild. They also offer an array of packagings such as tall cans bombers, and 40s (who doesn't appreciate a 40?). They are committed to contributing to their neighbourhood, supporting their community and infuse art, music, and design into all aspects of the brewery experience. Canadian Craft Tours offers a great East Van Craft Beer Tour, so if you're looking to explore a few options be sure to book a guided and behind the scenes tour and learn more about Strathcona and some experience other amazing breweries in the area.
Saanich BC
Science meets art at Category 12 Brewing on Vancouver Island. Located between Victoria and the Ferry terminal, C12 is an interesting and worthwhile place to stop and have a beer. Started by a very bright husband and wife team, Michael and Karen Kuzyk, they bring a vast array of experience and qualifications to their very science-based brewery. Michael has over 20 years brewing experience and has a doctorate (yes, doctorate) in microbiology and biochemistry. It isn't every day you have a Doctor brewing your beer, and it makes for very well thought out and meticulous brewing practices. They source locally and support their neighbourhood and are a big part of the growing brewing community on Vancouver Island. If you are interested in checking them out be sure to book a tour with Canadian Craft Tours that will explore the best beer Saanich has to offer. They are always working to expand their releases with new and exciting seasonal beers which means promising things coming from this charming island brewery in 2018.
Nelson, BC
Located in the heart of the Kootenays, Nelson Brewing is one of BCs oldest breweries and has been in operation since 1991. Originally founded in 1892, Nelson Brewing produced beer for 5 years before being bought out and changed to Kootenay Breweries Ltd. In 1957 it moved locations to Creston, BC and merged with 3 other breweries (Fernie, Cranbrook and Trail) and in 1972, renamed itself the Columbia Brewing Company. (Which eventually went on to become Kokanee.) The building remained empty until 1991 where local businessmen restored the historical building and reopened the Nelson Brewing Company in the same location as the original brewery. Another unique aspect is that when the brewery was first built a creek was rerouted through the brewery and was used as their main water source for their beer, ice and sodas. Although they no longer used as a water source, make sure you book a tour and will be able to see a peek of the original creek. Nelson Brewing is BC's largest (of only 3) certified organic brewery and it produces natural, traditional and full-flavoured beers. 2018 is a great time to visit Nelson Brewing to see some of BCs history in brewing and beer but also to experience growth and expansion. In 2017 Nelson Brewing opened a brand new 10 tap tasting room (half of which are typically brewery exclusive batches) which makes it a perfect destination to check out for 2018. New, old and great beer!.
---
31 Responses
Leave a comment