Running for Radlers and Pedaling for Pilsners: Actively Pursuing Your Next Cold One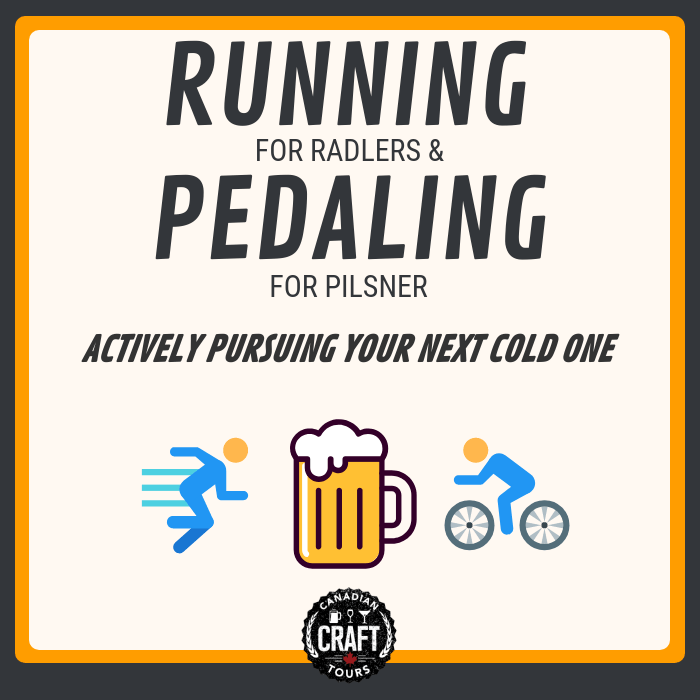 The days are getting longer and the temperature is rising. On the west coast the rain will subside and we will see the sun again. In the rest of Canada the snow will begin to melt and snow shovels and ice scrapers will be put away for another season. Many people are anticipating getting outside to enjoy some great activities. Recreational enthusiasts are looking forward to running, biking, hiking, and paddling. New years resolutioners and the fitness-minded might be getting a little tired of grinding away on the treadmills and exercise bikes, and looking to take things outdoors. Others are looking to visit their favourite patio and enjoy their preferred beverage. People from all groups are taking to the Creative solutions that combine these activities in organized events.
            In the past few years the popularity of fun running events seems to be on the rise. At the same time the craft beer industry in Canada has grown rapidly. Recently the two have become intertwined and more and more running and biking events are centred around beer and breweries. Alcohol and exercise may seem like a counterintuitive pairing, but with these events recurring every year the two are going together like the right wine and cheese. These events are often charitable and can range in distance from short jogs between venues to half marathons in total.
            For those that want to get out and get active on some beer-fueled adventures but aren't inclined to running great distances there is another trend for you and it's called the Beer Bike. Imagine a pub meets spin class meets human-powered vehicle. It's not a bad way to get from A to B and depending on where you are you may be allowed to have a drink on the way.
Why are these activities so popular?
            There are a lot of reasons why these events are so popular. They combine a bit of exercise with fresh air and great beer! What's more is that you get to enjoy these things with friends, share in camaraderie and accomplishment, and raise a hard-earned glass to a job well done together. If that's not enough, some of these events are charities: allowing teams and costume dress-up and raise money for a good cause. The beer bike provides much the same experience, but a little more personal and a little less strenuous. You will get all the benefits of a traditional beer tour with friends plus the added bonus of a bit of open air and physical activity.
Beer bike
           The Beer Bike is thought to have originated in the Netherlands sometime in the 1990s. The concept was simple, make a mobile bar or pub on wheels and have it propelled by pedalling patrons. The typical design has seating for 14 passengers with pedals at their feet, and one more for the driver who steers the vehicle. Whoever the genius inventor was he or she struck proverbial gold. In less than three decades the trend has made it across the pond and one of these machines can be found rolling around a city near you. A Beer bike will typically travel from pub to pub or brewery to brewery and depending on laws in your area you may be allowed to have a drink while cruising down the road. In Western Canada these bikes are available for tours in Calgary, Edmonton, Kelowna, Several parts of the Vancouver area, and Victoria.   
But what should I drink?
First and foremost you should drink something you enjoy. Avoiding anything super heavy would be advisable when there is more physical activity ahead of you and something a bit lighter in ABV would best. Most professional athletes aren't sipping a cold lager between shifts, they're drinking water or a sports drink like Gatorade. Gatorade was designed for the Florida Gators football team to give them a winning edge on the field by replacing the electrolytes lost through sweat during physical activity, as well as carbohydrates and water. Conveniently beer also happens to contain electrolytes, carbs, and water. There are even a few domestic breweries creating recipes with ingredients selected to fit this purpose. A common style of beer that fits the bill really well is a Gosé, a light and tart beer with a lemon characteristic and low ABV.  It's a refreshing summer seasonal offered by many breweries in recent years. What makes a Gosé different from most other beers is that it's brewed with salted water allowing it to provide even more electrolytes to help you run or pedal to that next brewery.
Where can I find one of these events? 
In short, anywhere there's beer! The events are popping up everywhere. Here are a few events coming up in British Columbia and Alberta in 2020 that would be worth checking out.
Canada Beer Run Series.

This series runs in Vancouver and Victoria, as well as several other cities in Canada. The run is a charitable event supporting The Canadian Mental Health Association.

Victoria: the 2020 event is scheduled for May 24th (route has yet to be announced).
 In 2019 the run was 12 kilometers long, visiting six different breweries from start to finish including Category 12 Brewing, Vancouver Island Brewing, and Lighthouse Brewing Co.
Vancouver: Scheduled for April 5th (route has yet to be announced).
 In 2018 the run was 8.9km and visited Off The Rail Brewing Company, Red Truck Beer Company, Parallel 49 Brewing Company, Big Rock Brewery, and Adina Brewing Company.
Penticton Beer Run. This run is charitable as well, with partial proceeds going to supporting the Youth Outdoor Recreation Society. Covering 10km, runners will visit a total of 8 breweries and 5 eateries. The brewery line up includes Tin Whistle Brewery Company, Bad Tattoo Brewing Company, Neighbourhood Brewing, Slackwater Brewing, Highway 97 Brewery, Firehall Brewery, and Barely Mill Brew Pub.
 A number of other events have been run in recent years. These events were held in cities already mentioned as well as Calgary, Edmonton, and Nanaimo to name a few. Last year Nanaimo held the Nanaimo Beer Run, Edmonton hosted the Canada Beer Run, and Calgary hosted Run to the Taps. We hope to see more announcements in the coming weeks of events happening later this summer.
Get Out There!
            If you're feeling the itch to get outside, get active, and drink beer you know what you need to do. Round up a group of friends, form a team and raise money for a great cause at the next beer run or book a tour on your local beer bike. Want to enjoy the beer bike experience with us? CLICK HERE!
Sources
"Going For A Beer Run? Here's How A Brew Fares As A Post-Exercise Recovery Drink" by Aaron Schachter, www.npr.org
"5th Annual Canada Beer Run is happening in Victoria this June" by Molly Feanny, www.victoriabuzz.com
"Vancouver Beer Run 2018" by Aliya Hussein, www.604now.com
"From Amsterdam, Beer Bikes' Popularity Spreads" by Sally McGrane, The New York Times
---
60 Responses
Leave a comment