Valentines Beers for your Sweetheart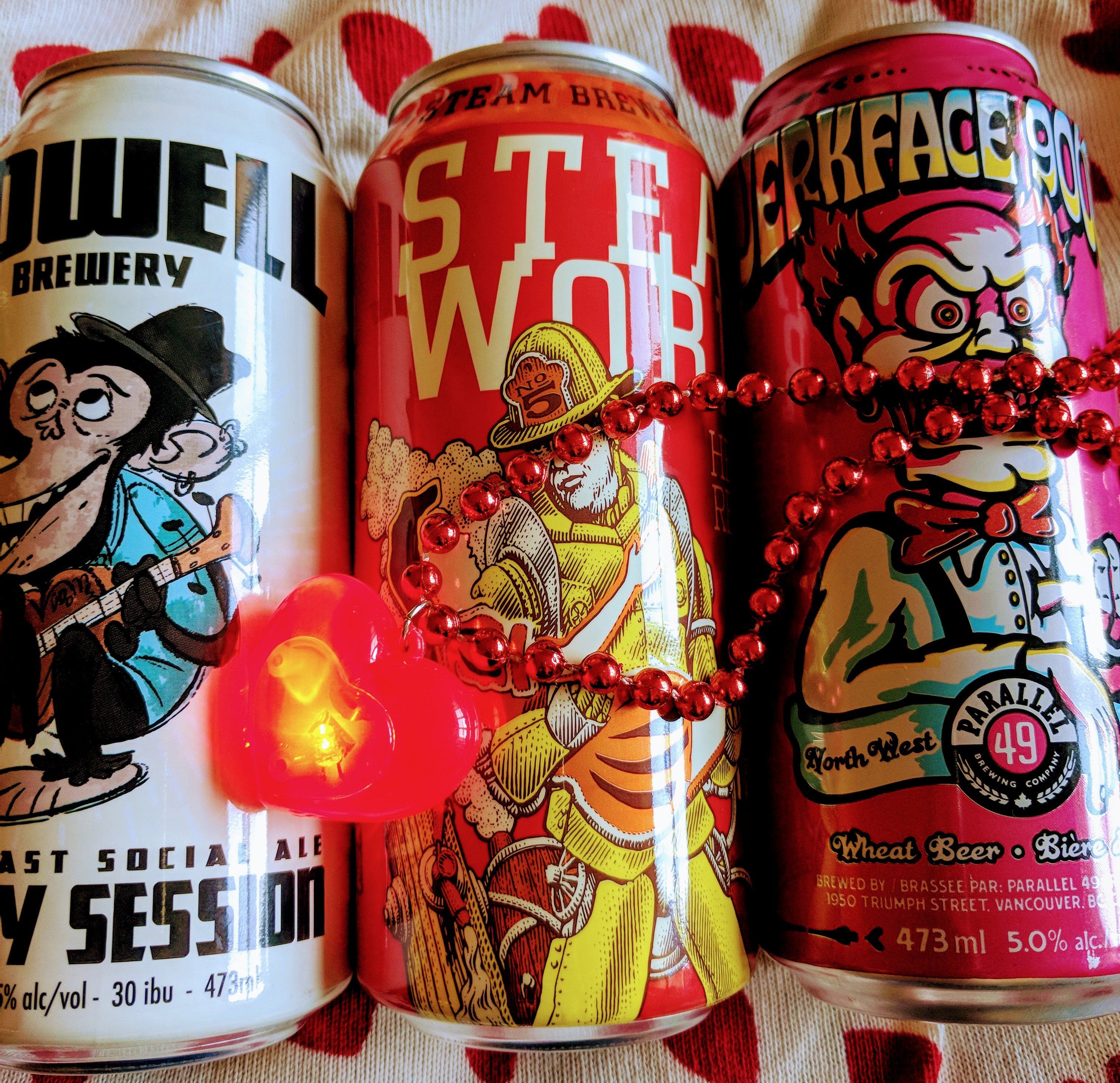 Roses are Red
Violets are Blue
Flowers and chocolate are boring
Give your Valentine a brew
Sick of chocolate and cinnamon hearts? We've made a list of some of the best beers to share with your sweetheart to make Valentine's day a holiday you actually want to celebrate.
The Muse and The Golden Promise
Cannery Brewing
Much like your sweetie, The Muse celebrates passion, inspiration and true love. This extra pale ale will go down smooth with any romantic meal, and is the perfect replacement if you're not into valentines cliches like champagne.
Cheeky Session
Powell Brewery
Feeling Cheeky? Cheeky Session is a great beer if you're looking for something smooth, easy drinking and not looking to get too inebriated. It is light, refreshing and hop forward and hints of orange, apricot, melon and berries make this a lovely beer for your funny Valentine.
Triplicity
Four Winds
If you like the idea of champagne more than you actually like champagne, Triplicity is the perfect substitute. The Belgian style Triple comes in a beautiful corked bottle and is bright, bubbly and effervescent. Fermented with wild honey you will find hints of honey, spice and fruit with a nice dry finish. It's as sweet as your sweetheart.
Heroica
Steamworks
Herioica red ale is a perfect Valentines red colour when you pour it into a glass and is a nice rich beer that pairs perfectly with a heartier Valentines meal. It has citrus and pine hop notes which keep it bright and fresh but has warm toasty malt notes like roasted hazelnut, toffee and caramel with a smooth and velvety mouthfeel which will make you feel romantic and cozy.
Smoked Chocolate Porter
Highway 97
Chocolates are a bit overdone as a Valentines treat, but it doesn't mean you still can't keep your sweet tooth satisfied. Highway 97 offers the happy medium between delicious small batch craft beer and tasty rich chocolate. It is rich and warm and flavourful while still being nice and light so you can happily drink more than one. It is a great option for a unique take for a classic Valentines tradition.
Jerkface 9000
Parallel 49
Not into Valentines? Sick of love and romance and people? Single and not looking to mingle? Jerkface 9000 is the perfect solution. It is a smooth super drinking wheat ale and is dry hopped with Mosaic hops which make it extra juicy, fruity with a nice punch. It is light and refreshing so you can happily spend the night curled up with a different type of date and is the next best thing to a real Valentine.
---
1 Response
Leave a comment